Click here to view this email in your browser.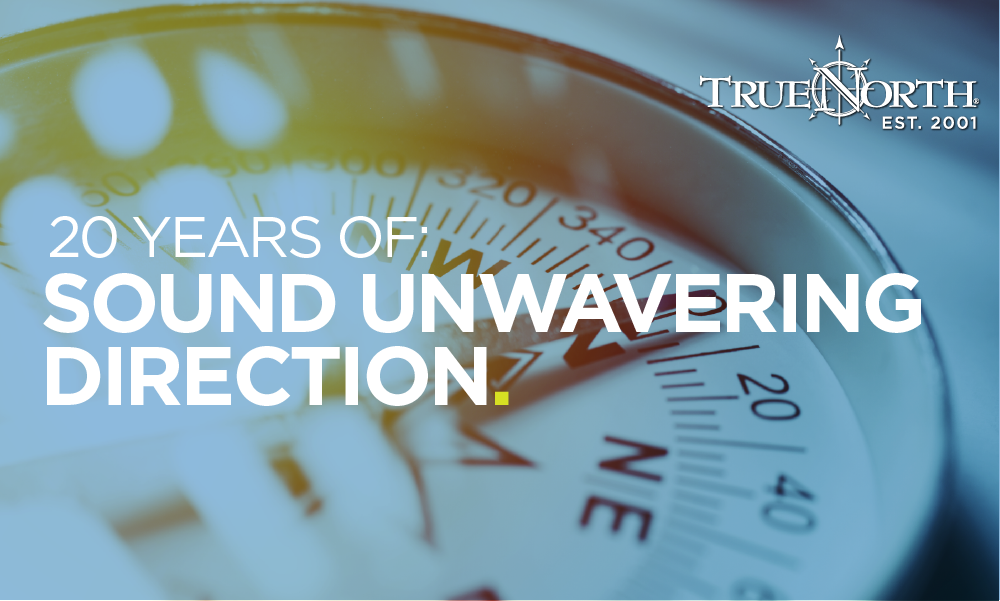 2021 is a significant year for TrueNorth, officially marking our 20th anniversary as a privately held risk management and insurance brokerage firm. Our founders saw incredible potential in building a legacy company that would create value for our clients, colleagues and communities for generations
to come. 

TrueNorth has grown, both in size and sophistication, yet our purpose is unwavering. Our clients remain in the center of our compass.
Thank you for your trust in TrueNorth – we have every confidence the best is yet to come!  
Watch TrueNorth colleagues reflect on the past 20 years.
View Our Upcoming Events:
For 20 years, everything TrueNorth does and stands for ultimately hinges on providing you value:
TrueNorth strives to mitigate risk by implementing a culture of safety.
Our safety and loss control experts can assist in OSHA and DOT mock audits, safety training, and analyzing company behaviors – creating a custom plan of action for your workforce. Explore our safety, well-being & loss control solutions here. 
Cyber attacks, ransomware, and employee data breaches are affecting more businesses every day.
While cyber insurance is a good start, no policy can reimburse your time or the headache of dealing with an attack. View our on-demand webinar to learn how TrueNorth is helping our clients mitigate their digital risk. Reach out to us today to talk protection.
Our team of personal insurance advocates are ready to assist you on your journey.
We provide coverages that grow with you – ensuring you're protected at every stage of life, offering solutions as unique as you. Let us be a part of your journey. Click here to start the conversation.
While insurance can be complicated, Trent offers industry insight for drivers on how to avoid common frustrations.
Tune into Oakley Trucking Inc.'s most recent podcast featuring TrueNorth's EVP of Transportation, Trent Tillman. Listen here. 
500 1st Street SE, Cedar Rapids, IA 52401
Click here to unsubscribe or to change your Subscription Preferences.